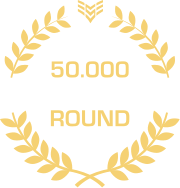 50,000 ROUNDS,
GUARANTEED
If your Swampfox Optic fails prior to 50,000 rounds fired, we will repair or replace it for free. Yep, we're that confident in our quality, and we stand behind both our products and our customers.
Tracking Shot Data
All Swampfox Optics have an embedded accelerometer microchip that tracks how many rounds you have fired, as well as a gyroscope microchip that measures G forces of the guns you have used—nope, not really, we're just going by the honor amongst warriors. If you shoot over 50,000 rounds before any failure, our guess is that you are satisfied with the product so bite the bullet and buy another one. But we've got your back on any failure before then.
Two Minute Process
The process is simple, just head to our online
service center
and provide minimum details so we can get the process started. From there you can also track the progress of your repair/replacement.
Exclusions & Limitations
The only thing that is not covered is loss, theft, deliberate damage or damage of a cosmetic nature that doesn't impact the performance of the product.