The Kingslayer is a super compact, highly accurate micro reflex open red dot sight featuring three reticle options that allows for quickly acquiring a sight picture with both eyes open while focusing through to the target. For reciprocating pistol slide platforms, remove the Picatinny mount to reveal an RMR-compatible footprint underneath. For rifle or shotgun platforms, Kingslayer comes with a low profile 1913 Mil-Std Picatinny mount already installed. Kingslayer is waterproof, fog resistant and features a scratch resistant, ruby red anti-glare lens coating. Built like a tank, Kingslayer can withstand 800 g's of impact and maintain zero come what may.
[tab] PRECISE POINT OF AIM
The crisp 3 MOA dot covers only three inches of target area at 100 yards distance. Kingslayer maintains its zero over time, shot after shot. FAST TARGET ACQUISITION
Kingslayer's true 1x sight picture and 10 brightness settings create the opportunity for an instant, lightning fast sight picture and faster follow up shots with both eyes open. SMART TECHNOLOGY
The included CR1632 battery lasts up to 1,500 hours before being swapped out via side tray (no change in scope zero). Kingslayer shuts itself off automatically after 4 hours.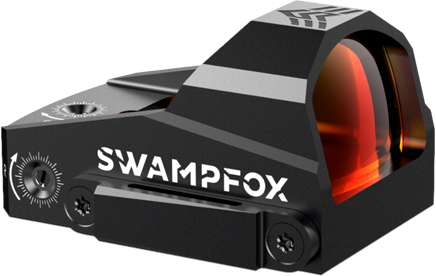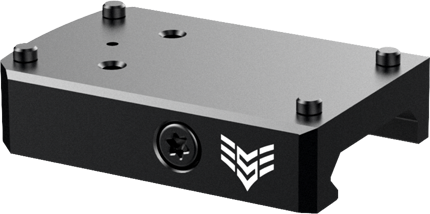 COMPACT
LIGHTWEIGHT
1.8"

LENGTH

1.1"

WIDTH

1"

HEIGHT

1oz

WEIGHT
LENSES
RUBY RED MULTI-COATING

State of the art lens coating fights glare and maximizes light transmission.

FOG PROOF

No fogging between lenses, no worries about seeing the dot.

ANTI-SCRATCH & HYDROPHOBIC

Tough as your old high school football coach, and ready rain or shine too.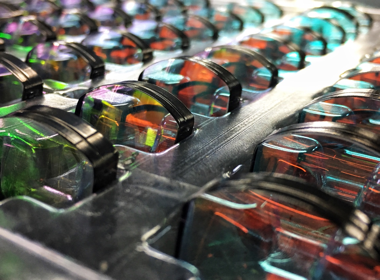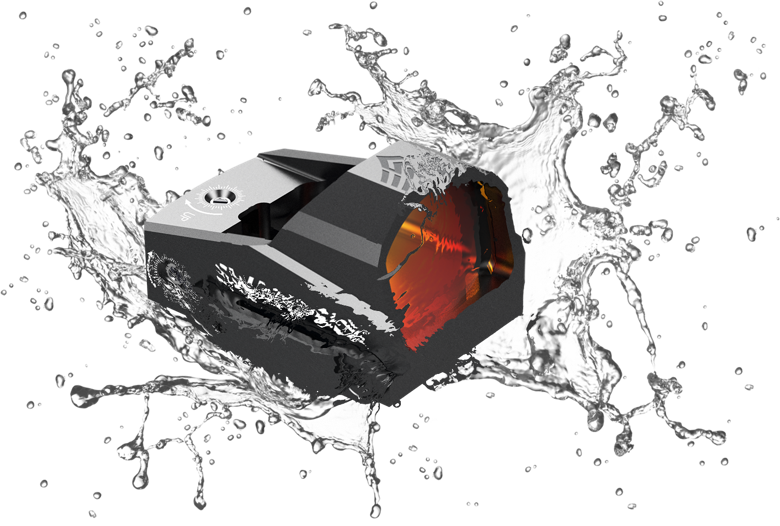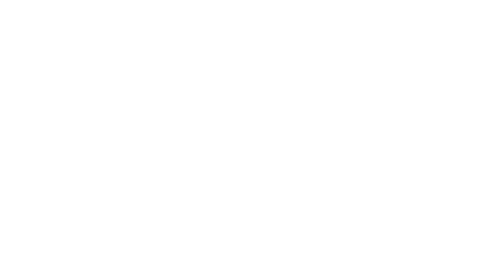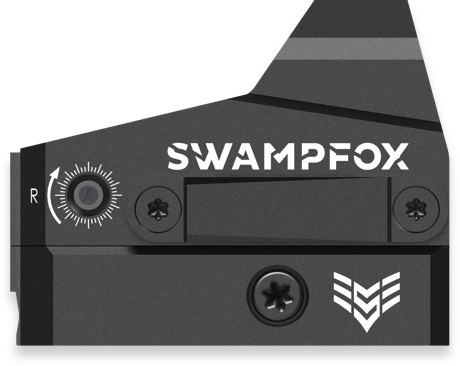 SPECIFICATION
| | |
| --- | --- |
| MOA Adjustment | Dial |
| Dot Size | 3 MOA |
| Magnification | 1x |
| Lens Diameter | 22mm |
| Illumination Positions | 10 |
| Brightness Adjustments | Up/Down Digital Press |
| Shockproof G Forces | 800Gs |
| Waterproof | 1 Meter/ IPX7 |
| Battery Type | CR 1632 |
| Max Battery Life | 1,500 hours |
| Dimensions | 1,8"(length) * 1" (width) * 1.0"(height)/ 1.4"(height) with mount |
| Weight | 1oz without mount/ 1.3oz with mount |
| Lens | Multi-Coated Ruby Red |
| Specialty Coatings | Anti-fog, hydrophobic, anti-scratch |
| Parallax | Parallax free @100 yards |
| Eye Relief | Unlimited |
| Mount Type | Picatinny |
| Chassis | Aircraft grade aluminum |
| Windage/Elevation Movement Range (MOA) | 45 MOA/ Total 90 MOA Range |
RETICLE
3 MOA Red Dot
Red Circle Dot
Green Circle Dot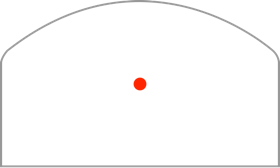 3 MOA RED DOT
IN THE BOX
Optic with sheath
Picatinny Rail Mount
Screwdriver
Lens Cloth
Battery
Three screw sets
TORX #6-32x0.315L T10
TORX #6-32x0.393L T10
TORX M3.5x10L T10
Sub Title:
Micro Reflex Red Dot (Pistol Cut) 1x22
I have this mounted on a KSG. I have a few hundred 2 3/4 00 buck, and around 100 slugs. Zero issues. This, and the KSG, shines with the mini shells. Easy to shoot and spot on at 50 yards in.

if you don't have one of these on your CZ Scorpion EVO you're missing out. Perfect for the Scorpion! solid, easy to see, aligns perfect with the eye.

Kingslayer for budget USPSA Open build

Ever since I first heard of Swampfox Optics on the We Like Shooting podcast, I've been looking for an excuse to purchase a Kingslayer red dot optic, but didn't have a pistol to mount on one. Black Friday/Cyber Monday let me put my hands on a Springfield XDm OSP 9mm Tactical which as a threaded barrel and 3 red dot mounting plates for a great price. Swampfox's BF/CM sale locked in the deal! I used the RMR mounting plate that came with the XDm OSP to mount the Kingslayer and dry fired with it for several days before I had chance to head out to the range for some live fire. During indoor dry fire, I noticed that the dot would have a visible flicker while moving the gun on the 3rd setting down from the brightest. Using my 1000 fps highspeed camera, I found that the brightest setting did not show any flicker (100% duty cycle) and the other brightness settings had varying duty cycles; 7 frames on + 7 frames off for the 1st step down (50% duty cycle), 4 frames on, 4 frames on + 9 frames off for the 2nd step down (~30% duty cycle), etc. This is my first red dot, so I'm not sure if this is typical or not. In live fire, which I've been able to do 3 times since receiving the dot earlier this month, I've put about a thousand rounds through the pistol that this dot is mounted to and the flicker is noticeable on the 2nd and 3rd brightest setting as gaps in the dot cycle arc, if you're looking for it, but I don't think it's going to be a problem. The brightest setting does not flicker and isn't so bright that the dot blooms on an overcast day and also appears to be bright enough for even the sunniest days. I'm concerned about the battery life on the brightest setting, but will be carrying extra batteries with me when I practice or shoot a match. After zeroing the dot, I have not had to re-adjust it, even with 9mm major ammo which loosens the compensator! It seems to be holding the zero just fine. My father-in-law, whose eyesight has him thinking about putting red dots on his pistols and revolvers, has been putting off buying a red dot until he could shoot a handgun with one to see if it really would help. After putting several magazines of ammo through the XDm with the Kingslayer, he's now sold on getting one! After Christmas, I expect that he'll buy one or more Kingslayers for his own handguns. I'd have given this dot a 5-star review, except for the flicker. If all dots exhibit this, then I'd say the Kingslayer deserves the additional star. If others do not, then I think the Kingslayer designers should consider increasing the pulse frequency so the gaps in the recoil arc appear shorter (or may even disappear if the rate is high enough).

Bought this for my wife's AR 15 and she loves it . Super easy to sight in , fast target sight and light weight She is even more deadly that before . Great product .Great company.

I purchased the Kingslayer to test as an alternative to the much higher priced Trijicon RMR. Upon arrival you can tell they take pride in their product, the packaging is well made and sturdy. Inside the optic and accessories are protected well by a foam insert. The Kingslayer mounted easily to my aftermarket Brownells Glock slide cut for the RMR, no wiggle room, no gap. Once mounted I test fired it to zero and the Kingslayer was already perfectly sighted in for 25 yds. The dot is bright and easy to see even in daylight. As a gunsmith who shoots a lot, I would highly recommend the Kingslayer as a red dot option for a CCW, and even competitive shooting. It's one piece design with external battery compartment makes it a solid choice for use and a great alternative to the RMR.

This little red Dot for the money is amazing. The glass is CRYSTAL clear and has held zero. I have astigmatism and the reticle is crisp! The only con is the battery life. Great job swampfox. Will definitely buy again

Excellent product. Shipping was fast and will definitely buy again!

The kingslayer should be called the RMR slayer. This red dot is sturdy, precise, insanely clear sight picture, and looks badass on any firearm you choose to attach it to! I highly recommend this for anyone looking to upgrade their weapon, you won't be disappointed.

Kingslayer for Ruger MK III

I bought my Kingslayer for a Ruger MK III, and so far I am very happy. It was easy to mount and zero, the glass is wide and clear. I would definitely buy again.